Which cloth fits your needs...
- Championship & ProLine, teflon coated billiard cloth is used standard for casual players, in either home or taverns. Simonis cloth is standard for veteran players.



- Cloth grades, specs. listed below.
Starting from basic cloth choices (on top), mid grade below, followed by tournament grade choices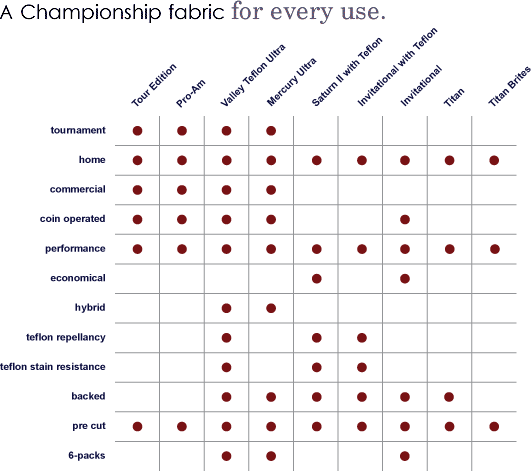 - A great entry level price point fabric for the home billiards market with the added feature of DuPont Teflon. Multiple colors makes this a go to fabric choice.
- Worsted, 2-ply construction. Highly durable, long lasting fabric for tournament play and commercial use.
- Championship's worsted tournament grade fabric. 2-ply construction. Fast, accurate, most divot resisting tournament grade fabric in billiards.
ProLine Chart
30 colors total
- ProLine Classic is known for its value & performance. With 30 available colors plus stain protection, makes this cloth popular.
(20 -21 oz., 80/20 wool nylon blended cloth)
- 23 oz. worsted cloth, 70% wool/ 30% nylon blend. Giving exceptional durability for both home and commercial use. The nylon combats, "ball burn," & wrinkles. Professional grade cloth made affordable.
- Elite stands at the top of the ProLine™ blended woolen cloth line. It is a luxurious 21-22 oz. 80/20 cloth equally at home in a commercial or residential environment. 24 cloth colors.
Championship Chart
24 colors total